Apartment No. 5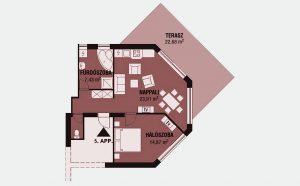 The apartment, sized 50 m2, is situated on the ground floor. There is a separate bedroom with double bed, living room with a sofa and kitchen in the same area, there is a spare bed for two further people. Bathroom with shower, bath and bidet. The apartment has also got a terrace. This apartment is available for handicapped guests.
You can check-in the apartments from 3 p.m. to 6 p.m. on the day of arrival and you have to check-out up to 10 a.m. on the day of departure.
If our offer appealed to you please fill in the form below and I will contatct you as soon as possible.