Diagnostics and metal resolving examination
Dental x-ray: small image sized 3×4 cms
Panorama x-ray: picture of the whole denture
Root canal calibration
Without using an x-ray the length of the root canal can be calibrated with the instrument.
Metal resolving examination (DMA meter)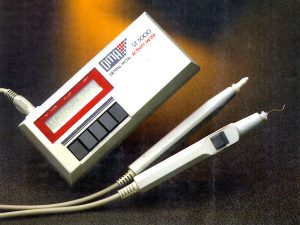 Today' s endemic, allergy, can embitter our life in several ways. Thousands of people are allergic to pollens, cannabis but the alloys used in dentistry, such as tooth replacements, bridges and inlays, might mean a much higher danger in our life. These alloys in our mouth getting mixed with our drivel generate an accumulator (a cell). The main parts of alloys (Ni, Cr, Co, Pd) can cause allergy if dissolving in the mouth from the alloys, the metal ions get into our blood circulation. The symptoms can be vary. Many times on the mucous membrane you can feel burning, hot or acid tastes. There can be mutations in the mouth, inside or near beside. Apart from the mouth all over the body there can be rashes, eczema and also the hair is falling out very often. With the help of a Hungarian patent in international dentistry, the dentists now have the chance for the first time to diagnose and prognose the electrochemical condition of the built-in and future tooth replacements with the help of a new dental device (DMA meter).